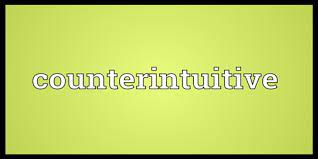 In order to beat the averages in any game, you have to disagree with the average opinion and be right. To get top decile investment returns as I have in angel investing for over 25 years, you must have a counterintuitive investment thesis. And you must be right. If you are right, the counterintuitive thesis will become the prevailing opinion and you will be rewarded 10-100X versus those who stuck with the prevailing thesis. You will also get some be wrong. Good bankroll management and the magnitude of being right will over time make up for the times you are wrong.
A counterintuitive thesis is especially important in early-stage investing. Disruptors are unlikely to have disrupted much when you place your bet on them. The incumbents will have more money, more investors, and more customers. This is where you must have a thesis about how the disruption will play out and the ability of management to execute the complex environment.
Here are a few opportunities to place bets that I have had over the years and the counterintuitive thesis at the time.
At Incisive Ventures, I continue to bet on counterintuitive thesis. While too early to tell if we are right, some of the recent ones include:
Counterintuitive and right. Two things that are hard to achieve, but very rewarding when you do.