The Prevailing Cloud Infrastructure Thesis:
The Cloud is simple to use and the early leaders (Amazon, Microsoft, Google, etc.) will take most of the economics in the Cloud.
The Counterintuitive Thesis:
Cloud complexity is growing and Cloud waste is becoming a material problem for cloud customers. There will be economics available for companies that reduce Cloud complexity and manage costs, especially across platforms.
Why we Invested in Vega Cloud
"The Cloud" can evoke in many images of magical unicorns and fairies. Developers and IT Managers know different. While the breadth and depth of Cloud services have exploded, the management tools, especially across vendors, have lagged significantly. Applications can be developed very quickly with dozens of plug-and-play services from a multitude of vendors, which is great for developers. But when the applications are in production the IT Manager is tasked with a whole new set of problems and a mishmash of tools. Current management tools suffer from two limitations; 1. the tool typically only manages a small subset of services, not the entire Cloud infrastructure, and 2. they typically charge a % of cloud spend so charge a fixed tax on infrastructure.
The Vega Cloud platform solves both these issues with:
1. a consolidated central dashboard across platforms.
2. Flat rate licensing.
With 10 years of Cloud experience running one of the leading Cloud Managed Service Providers, the management team is now solving in software what they previously solved with people. I have been very impressed with Kris (CEO) and his personal commitment to delivering real value by solving a very personal set of problems. Only a few months into launch, early customers agree and they signed a significant go-to-market partnership with Qumulo and secured high-profile first customers. We love betting on a CEO solving a very personal problem with software that fundamentally reduces friction and simplifies life for a large number of people.
The Background.
The Problem:
The public cloud is complex. Each vendor has dozens of not well integrated services and there are multiple vendors.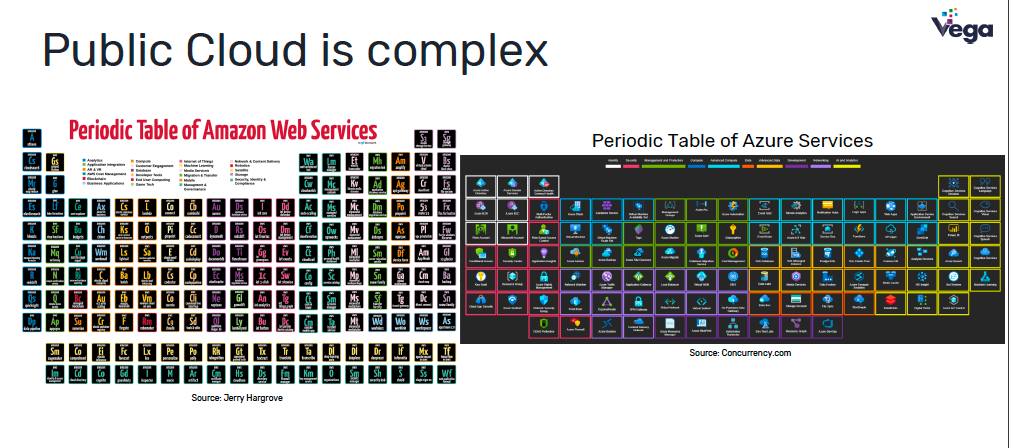 Best practice management covers multiple areas of technical expertise, each with separate tools including:
Performance Efficency
Security
Cost Optimization
Operational Excellence
Reliability
There is a cornucopia of separate individual tools for managing different parts of the Cloud.
Complicated tool environment has created unhappy customers.
Gartner estimates $14.1B in Cloud Waste in 2019. Cloud vendors are not motivated to help you reduce your Cloud spend.
Forrester Research estimates that 91% of businesses use two or more cloud platforms, increasing complexity and introducing cross-vendor management.
In a recent Forbes study, managing Cloud sprawl is a top CIO priority.
IT manager time. It is estimated that 15-20% of Cloud budget is IT time managing the Cloud with custom scripts and disconnected point solution tools.
It is very hard for an IT manager to have a single view into the size and shape of their Cloud infrastructure.
Current service management tools typically charge a % of infrastructure spend, causing costs to raise with scale and imposing a fixed percentage tax on cloud infrastructure.
Solution
The Customer gets from Vega Cloud:
Visibility into public cloud infrastructure across vendors.
Simplified scale management
Optimize cloud for efficiency.
Customers see a 40-65% savings on cloud spend when optimized through our management.
Vega Cloud consolidates Reporting and Operations into One Tool
Vega is also innovating on pricing for its management tools
Most mangement tools charge a % of cloud spend per month.
Vega charges a flat fee with flat fee add ons, resulting in a 70-90% cost reduction versus traditional management tool pricing.
Trends I am betting on
Move to Cloud accelerates. The Cloud is already upon us while expanding bandwidth and increased intelligence will pull even very complex applications into the Cloud. In 1996 I started encoding.com to transcode media files and bought a ton of servers and storage to do that. You couldn't move the files over the internet cost-effectively. Today encoding.com is a cloud service preferred by Adobe, Warner Media, and more enabled by the expanded bandwidth. There are also cloud services with a level of intelligence that is simply not possible in a local machine. Services like GPT3, voice recognition, credit card processing, and credit scoring cannot be local and are available via an API to a cloud developer. There are more "cloud only" features and intelligence coming which will enable applications to be built which are impossible locally.
Simplicity Wins. Every technology that achieves mass adoption follows a similar pattern from complexity to simplification usually starting with developers and eventually reaching everyone by having the complexity hidden. V1.0 of the cloud is very infrastructure and developer-focused. Amazon wrote the first cloud services for their own use, for their own developers. Then they shared with other developers and Microsoft, Google, and the rest started serving the developer community with their own APIs. Cloud 2.0 is companies like SnowFlake building applications on top of the infrastructure that make deployment and management easier. Cloud 2.0 is about simplicity and expanding the market outside hard core developers. Vega is delivering simplicity for IT managers, finance and operations staff tasked with cloud management. The move to cloud simplification is well under way and will continue.
Vendors don't want costs managed. One of my pet peeves with any vendor who charges by the hour to fix something for me is that there is an inherent conflict between their business model and mine. I want to solve the problem as cheaply as possible, they want to make as much money as possible, which often means taking their time even when it is not necessary. Lawyers are the worst at this (don't get me started). This inherent business model conflict is on steroids in the Cloud with estimates of "cloud waste" being billions of revenue to the cloud vendors. While there is competition on cost per cloud unit (compute, storage, bandwidth, etc.) the vendors want you to consume as much as possible. Companies like Vega can give users a level of management the vendors will never provide on their own, especially across vendors.