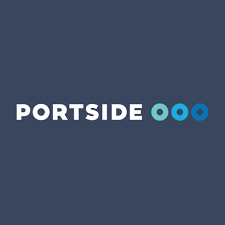 Original Investment: April, 2021
If you asked me six months ago to invest in software for aviation, I would have said you are crazy. I would also have been wrong.
Keith Rabois once tweeted: "Formula for startup success: Find large highly fragmented industry with low NPS; vertically integrate a solution to simplify value product."
Portside has nailed this strategy.
While consumer travel has taken a digger during the pandemic, business and government fleets kept flying and even grew. While I can book a commercial flight from my iPhone, business and government flyers and operators are back in the stone ages with telephones, faxes, and spreadsheets. The pandemic pulled forward the modernization of the technology stack for these fleets and Portside is the leader in this segment. Portside grew 3X in 2020, is profitable and we invested with strategic angels prior to the recent Tiger Global led Series A.
Portside reminds me of the power of a counterintuitive thesis.
Portside: The Operating System for Business and Government Aviation.
What Portside does and why it is important
There are over 120,000 private commercial and government airplanes in the world that serve passengers. During the pandemic, while public transportation languished, these private operators saw demand increase. While public commercial airlines are highly concentrated into a handful of airlines who are highly regulated with advanced technology platforms, these private airplanes are owned by tens of thousands of operators all operating on different technology stacks. Whenever an airplane flies there is a myriad of regulatory filings (flight plan, weight, and balance, etc.), customer interactions (ticketing, scheduling, document checks), maintenance checks (upgrades, regular maintenance, etc.), and other issues. These aviation operators use a hodgepodge of self-developed tools, aviation software from the '80s, spreadsheets, fax machines, and more to manage their businesses from booking to operations to maintenance and more. These systems are very people-intensive, expensive and do not provide operators or customers a modern flight or aircraft management experience. Portside brings a modern SaaS solution for all aspects of commercial and government aircraft operations reducing costs, increasing compliance, and increasing customer satisfaction. Current modules include: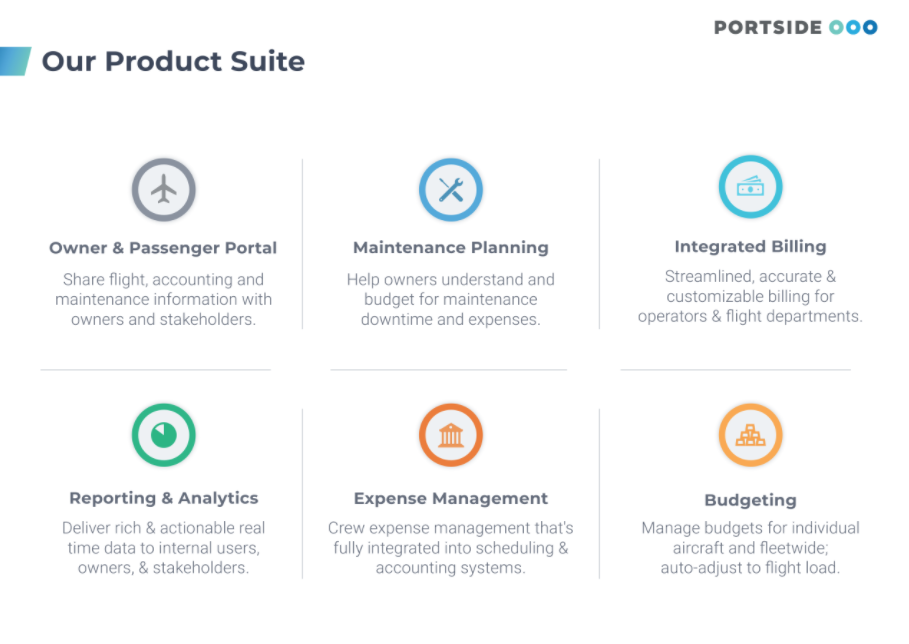 Portside currently manages over 1,000 aircraft on its platform across 50 customers and 25 countries. Operators who implement Portside have seen a 5-10% improvement in operating margins very quickly and a significant increase in customer satisfaction. None of the customers I talked to wanted to go back to spreadsheets and fax machines.
Portside's platform enables these aviation operators to upgrade their technology stack quickly to a level they could never be able to do in-house or with a mixed environment. This is important to their immediate bottom line and the continued growth of their businesses.
The Story
As a tech entrepreneur, I am always shocked when having to interact with an organization way behind the curve. Like the DMV with their paper numbers and lines. Or the doctor's office with the clipboard. And taking a charter or private airplane. My assistant will spend hours organizing on the phone and fax, I usually get a paper ticket (if any at all) and operations seem haphazard. Private aviation is a very large capital intensive industry, virtually untouched by modern technology.
The first time I received the Portside deck, I said no without reading the whole thing. Aviation software during a pandemic seemed like a bad idea. Then the CEO sent me a list of the investors. I noticed an investor who was a friend and one of the smartest people I know. I gave him a call. He gave me a rundown of their traction, especially during the pandemic, customer raves, the resilience of the management, and the opportunity ahead. It became clear that Portside was benefiting from the pandemic as operators pulled forward their technology upgrades to improve margins and customer service. There seemed to be a clear path to $100M revenue with less than 5% market penetration. The more I dug in, the better the opportunity looked (this usually doesn't happen with startups)
Why I am Investing
Despite all the tech innovation around us, there are still industries left behind, big ones. The trick is finding someone with the right industry experience who also understands how to build modern technology. The management of Portside is that team. Portside is the clear leader having created this niche of SaaS management for commercial and military. They have achieved a worldwide scale with impressive partnerships and customers on very little capital (<$2M). Portside is profitable, reaching profitability after less than two years of operations, and intends to grow profitably from here on out. In these heady times, I am usually investing in tech companies with traction, but 2-4 years from profits. When I find a profitable, fast-growing SaaS company, like Portside, I write the check as quickly as possible.
Trends I am betting on
SaaS for the laggers. Highly regulated, capital intensive industries tend to be technology adoption laggards (think Autos, Healthcare, Government, Aviation, etc.). They tend to wait for a forcing function (Tesla to Autos) or a critical mass (Cloud infrastructure) before adopting new technology. The pandemic created another forcing function which caused huge industries to re evaluate their operations and look for opportunities for cost reduction and new growth, often through new technology adoption. This had led many aviation operators to Portside. As these operators improve their margins and customer service I am betting it will push more laggards to upgrade as well.
Why this deal is Incisive
Portside ranks very highly in key areas of our Meta Themes.
Disruptive innovation creates new markets. In 2021 it is counterintuitive to think booking a flight on your phone is disruptive innovation, but in commercial and military aviation it is. So is the cost savings to the operators improving margins by 5-10% very quickly. Being a high-margin business allowed the industry to be complacent, but the pandemic has pulled forward the need to upgrade. Portside is the clear leader and creating a new market for a SaaS solution that didn't exist before. When you create a new category, the leader takes most of the spoils.
Americans are lazy. We want convenience in everything we do and jared when we don't get it (DMV, Doctor, etc.). Portside brings modern convenience to their segment and the customers love it (NPS of 91).
Great founders figure it out. Legacy industries are hard to disrupt from the outside. Alek and Alek are insiders having provided value before. They have also been very resilient through a pandemic which would have killed a weaker management team. Management figured out how to grow and achieve profitability in an unloved sector of the economy during a pandemic. Enough said.
Software Eats Everything. Software has already eaten the phone and fax machine in most industries, commercial and government aviation is next. A single integrated suite to run the business which is standard in most industries is now available for the first time with Portside. The software delivers value far in excess of it's cost to those who implement it and gives them no reason to go back to clipboards and faxes.
Invest with other smart people. The early seed funds focus on this kind of disruption of traditional industries with software and have helped the company immensely. It is also exciting to see very high level executives in aviation as investors and customers. Strategic early stage investors including I2BF , Builders Capital, Quiet Capital and SOMA Capital are joined by industry angels from Volaris, AirFrance, Microsoft, Net Jets, and more. I couldn't ask for a smarter group of co-investors for this particular industry.
***
The views expressed here are those of the individual Incisive Ventures, L.L.C. ("IV") personnel quoted and are not the views of IV or its affiliates. Certain information contained here has been obtained from third-party sources, including from portfolio companies of funds managed by IV. While taken from sources believed to be reliable, IV has not independently verified such information and makes no representations about the enduring accuracy of the information or its appropriateness for a given situation. In addition, this content may include third-party advertisements; IV has not reviewed such advertisements and does not endorse any advertising content contained therein.
This content is provided for informational purposes only, and should not be relied upon as legal, business, investment, or tax advice. You should consult your own advisers as to those matters. References to any securities or digital assets are for illustrative purposes only and do not constitute an investment recommendation or offer to provide investment advisory services. Furthermore, this content is not directed at nor intended for use by any investors or prospective investors, and may not under any circumstances be relied upon when making a decision to invest in any fund managed by IV. Any investments or portfolio companies mentioned, referred to, or described are not representative of all investments in vehicles managed by IV, and there can be no assurance that the investments will be profitable or that other investments made in the future will have similar characteristics or results. A list of investments made by funds managed by IV (excluding investments for which the issuer has not provided permission for IV to disclose publicly as well as unannounced investments in publicly traded digital assets) is available at https://incisive.vc/investments/.
Charts and graphs provided within are for informational purposes solely and should not be relied upon when making any investment decision. Past performance is not indicative of future results. The content speaks only as of the date indicated. Any projections, estimates, forecasts, targets, prospects, and/or opinions expressed in these materials are subject to change without notice and may differ or be contrary to opinions expressed by others.